WHAT'S YOUR TRADE SHOW SOCIAL MEDIA PLAN?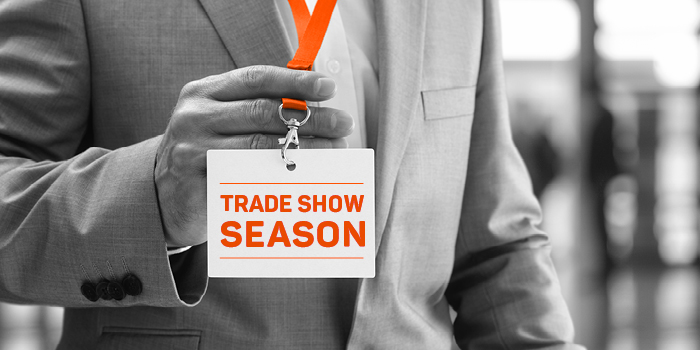 by Amy Biemiller
No matter if your trade show or conference season is short or year-long, it's important to maximize your investment in attending and exhibiting. According to the 2017 report from the Content Marketing Institute, 68 percent of B2B marketers rely on in-person events like trade shows as an effective marketing strategy. Yet according to research from PR firm Bospar, 64 percent of marketers are disappointed in the ROI of attending such event.
How can you draw more people to your booth or presentation, or make the most of attending any trade show? Leverage multichannel social media marketing before, during and after each event.
Here's how to use social media marketing to make attending the next trade show or event result in better interactions and leads, and make your brand stand out.
Preshow
Preparation is key. That's why seasoned content marketers use the six weeks before a trade show to their advantage in these ways:
Blogging: Craft a blog post or two that connects what you do to the trade show theme. Link to the show's page and promote your posts on social media.
Tweet: Tweet weekly about what you are looking forward to at the trade show or conference. Include a link to the show site, news about the show or a featured speaker.
LinkedIn: Connect with your best customers and prospects via LinkedIn and invite them to your booth, or if you are not exhibiting, to a meal out during the conference or trade show.
Connect: Use social media marketing to your advantage to connect in a number of ways:

Check out the list of speakers. Are there a few who would make good contacts or referral partners? Connect with speakers who are most relevant to your marketing goals via social media.
Review the show's list of exhibitors. Is there a potential partner or client? Find them and introduce yourself. Give a social shout that you both will be attending the show.
Monitor: Monitor your social media platforms and those of the trade show or conference so you can participate in all relevant conversations around the event that happen on LinkedIn, Twitter and Facebook.
Promote: Create a landing page on your website specific to the event. Provide directions to your booth and showcase information about speakers or special events you will sponsor. Create event pages on your Facebook and LinkedIn pages, too.
Email: Email your e-newsletter subscribers with important trade show event details like where your booth is located or invite them to RSVP to a special breakfast or dinner with you during the event.
Remember, in all the social media marketing activities listed above, it is imperative you limit the pitching. Instead, respond, share and offer ideas or invitations to meet.
During the show
It's important you continue your social media marketing momentum once the trade show or conference begins.
Video: If you are speaking or sponsoring a speaker, take video to share later. If you are exhibiting, produce and post a video of your booth setup or show floor.
Photos: If you have a booth, take plenty of photos of and with industry people who visit your booth. Use them as images for blogposts and other marketing initiatives during and after the event.
Blogging: Share and repost valuable content from people you want to connect with or establish deeper relationship with. Share roundups or best-of notes about sessions you attend. Use the show hashtag to share what you are learning.
Tweet: Stay involved in any industry Twitter chats during the event, share opinions and encourage people to share theirs. Be sure to monitor and use the event's hashtag and relevant keywords.
Media: If you are breaking news at the event, make sure to have a list of all media contacts at the event. Distribute a press release during the event to get interviews lined up. Promote any coverage via social media and tag the journalists who cover you. Promote all your coverage during the event via social media.
After the show
Wrap up your trade show social media marketing push with these important activities:
Lead organization: Review all your new leads. Determine who the best candidates are to connect with on LinkedIn, follow on Twitter or like their business page. Make sure you include a personal note along with the request to connect.
Lead touch points: Add new prospect information to your data base and follow up via email with something of value: a whitepaper, infographic, discount or a link to your enewsletter. Make sure your email includes all your social links.
Blog: Write and publish a blog post about event highlights. If you presented during the event, share video clips of the presentation or your presentation slides or links to a PDF handout.
Give back: Give a social shout out to every exhibitor you met who took time to speak with you.
Key to effectively making social media an extension of your trade show marketing plan is preparation. Determine ahead of time what types of leads you want to get, which industry thought leaders you want to connect with and which customer and partner relationships you want to cultivate. Then, carefully plan your social media marketing tactics to target those prospects before, during and after each event.
Let us help you get the most out of your trade show season. Contact us today for help developing original content that will set your brand apart.