BALANCE IS CRUCIAL WHEN READERS WEIGH YOUR NEWSLETTER'S WORTH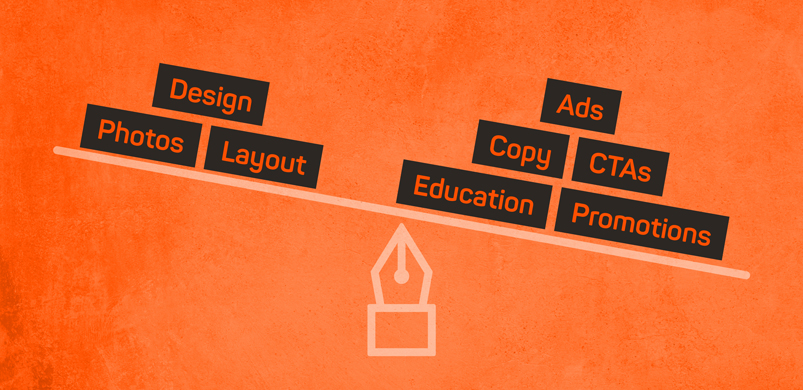 By Jessica Gmitter
It takes less than a second of searching to read headlines proclaiming newsletters are dead. Don't believe it. There are brands that are very successfully building audience engagement through their newsletters. For instance: The Daily Skimm, Warren Buffet's Annual Letter and Think With Google.
These brands (and many more) know that newsletters are a great way to show off a brand's personality, effectively drive prospects and customers to a website or landing page, increase social engagement and sell products and services. Plus, there is no denying their cost-effectiveness.
The bottom line is this: E-newsletters still deliver B2B and B2C marketing ROI, data show. But they deliver that ROI when the content in those newsletters is balanced with informative, educational, relatable and timely information.
It's time to take a critical look at your newsletter and determine how you can remake it so that it is about more than just marketing. Unless you're breaking big news about your organization or an opportunity that could change your market, focus on content that's important to your audience. Here are four tips to help you achieve better balance:
Remember the 90/10 Rule
Make sure that nearly 90 percent of your e-newsletter content is educational or of direct help to your reader in some way. Based on your market research, this content should reflect your audience's primary interests, challenges and goals. By doing this, you'll show them that your newsletter is designed for their benefit, rather than yours.
Do Your Research
What do your subscribers want to read about? What are their primary interests, goals and pain points? Positioning yourself as a helpful resource, an expert in your field or a friendly point of contact requires an understanding of your readers' needs. Focus groups or surveys, social listening and keyword research are a great start to crafting customized content. Keeping a close eye on client or stakeholder demographics and behavioral or lifestyle trends can help you narrow down their needs.
Don't Forget About Design
Concise, to-the-point content delivered in short sentences and paragraphs will make your e-newsletter an easy read, even on mobile devices. You can always link to longer-form articles housed on your website. Maintain a decent amount of white space by keeping images at a minimum, in order to further that streamlined, uncluttered feel.
Market Your Services, Products or Campaigns in Ways That Make Sense
Once your readers feel they've learned about a topic relevant to their daily lives, or you've given them ways to solve a problem, they'll be more amenable to seeing what you want to market to them. This is where to incorporate that 10 percent marketing content discussed in Tip #1. Readers are more likely to explore your recommendations and proposals when they don't feel bombarded by them from the beginning.
Get the content marketing guidance you need to meet all your marketing goals. Email CrucialContent today.