5 WAYS MARKETERS CAN IMPROVE THEIR FACEBOOK CONTENT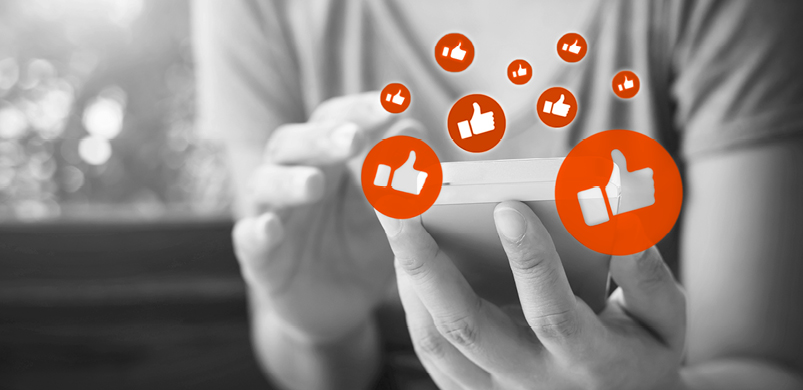 By Erin Rowley
Facebook says that more than 80 million businesses rely on it "to maintain an online presence, communicate with customers and drive transactions" and that "each week, two out of three people on Facebook visit a local business Page or an Event Page." But more and more, Facebook prioritizes posts from friends over those from business pages, which means people are engaging with businesses on Facebook less than they used to – up to 50 percent less.
So just having a Facebook page and posting to it regularly isn't enough. The QUALITY of the content you're posting and the FORMAT in which you're posting it matters more than ever.
If your Facebook marketing strategy doesn't involve content that's optimized to provide you with the most reach, the most engagement and the most marketing value, it needs updating.
Here are five things you can do to improve your Facebook content:
HOW TO IMPROVE YOUR FACEBOOK CONTENT FOR BETTER MARKETING RESULTS
1. Have a Unique, Consistent, Engaging Voice.
If one of your Facebook fans read a post from you without being told who posted it, would they know it was you? If the answer is no, your Facebook marketing strategy needs to involve developing a unique voice (or doing a better job of using the unique voice your brand has already developed). If your brand voice is usually more formal, tweak it on social media to be more conversational.
As you develop each piece of content, think about three things:
Your brand's values
Who your audience is
What your audience wants
Don't talk AT your audience – talk WITH them. Encourage engagement with questions, polls, giveaways, contests and posts that invite people to give their opinions or share a personal story. The more engagement your posts get, the more people will see them. And when consumers engage with you, listen to what they say and respond thoughtfully and quickly – think minutes, not hours or days.
2. Be Mobile-First (Not Just Mobile-Friendly).
The vast majority of people using Facebook do so from a mobile device. And since people check their cell phones an average of 30 times a day, and many of those checks include scrolling through Facebook, the way your content is experienced on mobile, not on a desktop, should be your main priority.
Keep content short and to the point, and prioritize visuals over text. Ensure that ad headlines are 30 characters or less so they don't get cut off on mobile, and take advantage of Facebook ad formats like lead ads, which pre-fill contact forms so people don't have to type out all their contact info in order to get information from you.
3. Use Video.
Every day, 100 million hours of video is viewed on Facebook. Video engages people in a way that other media just doesn't. To make the most of your videos:
Make them eye-catching, interesting and worth watching. For example, check out a recent CrucialContent video:
Keep them under two minutes long. If you're using the video in a Facebook ad, make it even shorter: Keep it under 15 seconds and feature your CTA at the very beginning. People have short attention spans!
Shoot them vertically, not horizontally. That's how the majority of people prefer to hold their phones.
Include captions. Most people watching videos on social media don't have their sound turned on.
Upload them directly to Facebook. You'll automatically get more engagement, because Facebook's algorithm prioritizes videos that are uploaded directly to its site over links to competing platforms like YouTube.
Live content is a huge driver of engagement, so another important way to make video part of your Facebook marketing strategy is through Facebook Live. The best Facebook Live videos last at least 10 minutes and give your audience a peak behind the scenes at your business, show them how a product, service or process works, or answer questions they have.
4. Use Facebook Stories.
Ever since Snapchat introduced stories in 2013, the format has exploded in popularity. Stories are collections of images or short videos that people can scroll through from left to right, rather than from top to bottom like on most social media feeds. Users can add text, images, videos and other content to their stories throughout the day and can use filters, stickers and emojis to make their stories more fun. The format is especially popular with people in their teens and 20s.
Facebook didn't get in the stories game until 2017, but their version of it has taken off, driving tons of engagement for those who use it. Facebook Stories is an especially useful tool for showing people your organization's human side, with behind-the-scenes content that will make them feel more connected to your brand. Prioritize other formats when you want consumers to take action right away – stories are best for building awareness of and good will toward your business.
5. Pay for Facebook Ads.
Part of the appeal of Facebook is that it's free and that posting content to it doesn't cost businesses money (aside from what they pay people to create the content and do the posting). But to truly get the most out of the social network, your Facebook marketing strategy should include buying Facebook ads.
One reason is that Facebook's algorithm places unpaid-for posts from businesses toward the bottom of its priority list, after posts from friends and content that advertisers have paid for. So just because you post something doesn't mean that all, or even most, of your Facebook fans will see it.
Another reason is that Facebook ads are both cheaper and more targetable than most other forms of advertising. Facebook lets you target your ads very specifically, based on age, sex, location, interests, behaviors and much more, to ensure the right people are seeing it. And its easy-to-use analytics let you see how your ads are doing so you can tweak them before you've spent a lot of money on them.
The bar for high-quality Facebook content is getting higher all the time. Now that you know what kind of content you need to clear that bar, do you have the resources to get it done? We do. Contact CrucialContent today.